About Us – eCatTrade.com
We would like to say 'Hello'! Dear visitor, nice to meet you! We really appreciate your interest to our project and would like to tell you our story… We are John Smith (Mr.Smith) and cat Tom (eCat). John has more than 14 years of experience trading on a variety of asset classes such as foreign curriencies, stocks, futures, commodities and options, plus 8 years in Forex affiliation. Having expertise both in trading and affiliation, gives us opportunity to find the best offers in the industry and identify fraudulent behavior. And Tom is a pet. His role is to inspire John. Would you believe, if Tom smells scam? Well, he does…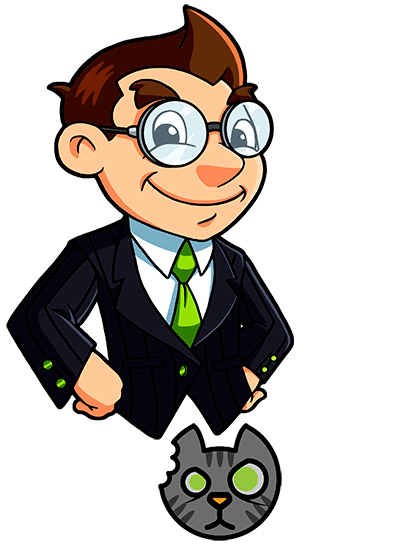 Our mission is to provide traders from all around the World with top quality, accurate and up to date information about Forex brokers and binary options platforms, robots, strategies and tips, promos and news. We know, there is a lot of scam in the market, and our goal is to identify shady companies and reveal their fraudulent activity to the public.
Why are we different from other projects? We allow everyone to share his or her opinion about any broker or platform listed here. If it is not a spam or insult comment, we'll publish it. Even if some services are criticized, we'll avoid deleting comments, but invite criticized broker's representatives to solve problems of traders. We provide a dialog between traders and platforms, which is mutually beneficial both for traders and trading platforms.
If you are a trader, who needs more information, or you are a binary options broker / service representative, who wants to contact us, please don't hesitate to do it us using this contact form.
Affiliation Disclaimer
eCatTrade.com offers Forex brokers, financial services and binary options platform reviews, articles about trading strategies and other information.
It is important to inform you, that our business model is based on revenue share or fixed payments, received from advertisers.
Advertisers are Forex brokers and other financial companies listed on our website, which means that we receive payments for advertising from them. We really do our best to be unbiased, but there is always some place for conflict of interest. To make our reviews more objective, we don't moderate or delete testimonials or comments, written by visitors or our website. Everyone is welcome to share his/her positive or negative opinion, to add some information to our reviews, to argue and publicly disagree, if they have different opinion. Unless comments are insulting or spam, we will not delete it.
We are not a broker or platform, but an independent source of information about Forex & binary options. Our goal is to provide you with trustworthy and honest opinion about the best brokers / platforms / companies in the market, to help you make the right choice.
Yours, John Smith & Tom (eCat).