Before we get to scrutinize the top brokers in the industry, let's get a quick understanding of what binary options are and what they entail. A binary option is a financial exotic option where payoffs are either cash or nothing or asset or nothing. Further, to help you get a clear understanding; binary options are deceptively one of the simplest trading platforms for low-skilled traders. This is simply because of their easy to grasp criterion of functionality. The most commonly traded instruments in binary options are the high-low and the fixed-return option.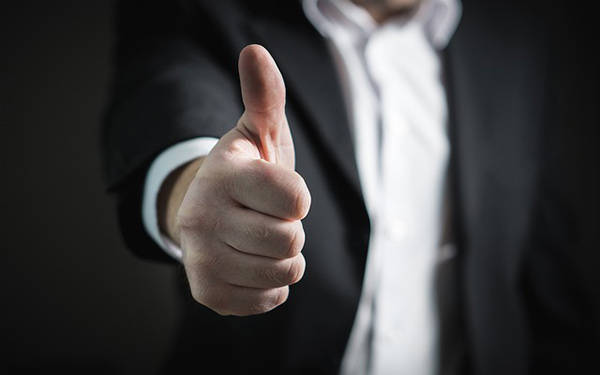 These instruments will give you access to foreign exchange, indices, commodities, and stocks. Also, these options will have a clearly stated time, expiration date, and their strike price. If you make a correct prediction on the market's direction before the given time, you are paid a fixed return. Conversely, if you make an incorrect prediction, you lose your original investment. So, binary options are all about studying the market and being smart on your prediction in order to thrive in the industry.
However, how do you know the right binary options platform to use in your trading? Why is it important to choose the right broker? Stick along to find the answers in this review.
Why is it so important to choose the right broker to trade binary options?
The answer to this question lies in being able to withdraw your money regardless of the many fraudsters and scammers in the industry. With the large number of trading platforms seeking to make a name in the industry, finding a trustworthy broker can be a daunting task. You might find a platform in an advertisement somewhere on the Internet or maybe read in a magazine and decide to give it a shot.
You successfully make a deposit, perform some trades, and win. However, you realize you cannot make a withdrawal and the platform is just playing tricks on you. So, does it mean you can't bring into realization your dream of being a professional trader?
You only need to be smart to win your trade and twice as smart to choose the right binary options platform. After all, no one wants their hard earned money to fall into the hands of scammers and fraudsters.  So, how do you go about choosing the right broker? There are several key things you should put into considerations when looking for a broker as shown below:
License – Akin to a game of chess, all the pieces should be put into consideration before making any significant move. Licensing is one of the key factors to check in a legal company. They are simply regulations governing you and the company. If there is no license, there will definitely be irregularities. Therefore, ensure you check the license before making a decision.
Demo account – No every trader joining a platform is a pro. Both the trader and the company should understand the importance of having a demo account in a trading platform. Put this into consideration and only proceed when you are certain the website has all the necessary requirements.
Minimal deposit – There is no doubt that some platforms are out to exploit their clients. Trading is fair game and, therefore, the platform should not demand exorbitant amounts as deposits. Choose a platform with a minimal or reasonable deposit.
Fast withdrawal – What's a better feeling than the ability to successfully win a trade and make a fast withdrawal? Of course, it's every trader's wish to have their dues as soon as possible. For this reason, when searching for your ideal broker, ensure you check whether a given site offers timely withdrawals.
Reputation – A high reputation means it is favored more than others. For a trading company to gain reputation in the industry, it has to offer top-notch services to its clients. Therefore, if you encounter a broker with a high reputation, there is no doubt it offers exceptional services.
5 tips and tricks to saving your money
If you are a trading enthusiast perhaps you have heard the phrase "plan your trade; trade your plan". This scenario helps you keep your loses at the lowest level. However, for a new trader, these tidbits of information might seem irrelevant or a distraction rather than an auction advice. Nonetheless, do not shy off as we have compiled several tips and tricks to ensure you are successful in the trading world.
Follow these rules and your success will be inevitable:
Rule no.1: Treat trading like your business
Firstly, you should realize that any business with an initial investment should be treated seriously. Otherwise, you might end up losing it all. Whether you are doing it as a hobby or business it definitely requires all your attention. Also, put into consideration that, like any other business, it can be expensive to run, maintain, and you might, sometimes, incur losses, expenses, stress, risks, and taxes.
Rule no.2: A trading plan is crucial
Everything that will require you to dig deep into your pockets requires a plan, right? Of course, with trading, you have to be equipped with all the tools needed to propel you to success. One of the key tools is a concrete trading plan. However, what is a trading plan? It is simply a written set of tools that determines your entry, criterion involved in your money management, and your exit. With a well-developed and back tested plan, good results will be inevitable.
Rule no.3: Secure your trading capital
If you don't want to lose your capital, then you should protect it at all cost. You can do so by saving money to fund your account. Since all traders incur loses- it is part of the business. Typically, protecting your capital entails more on not taking unnecessary risks and doing all things possible to ensure your preserve your trading business.
Rule no.4: Use a stop-loss option at all times
In any business, no one likes to incur losses. Luckily, with the trading business, you get to set your own losing limit using a stop-loss option. This means that if your set trade goes below the set limit the option will immediately settle your trade, therefore, saving you from incurring more losses.
Rule no. 5: Trade only what you can afford to lose
It goes without saying that you should only part of only what you can afford to lose. Typically, trading is more of the same as gambling, which means that you don't have a guaranteed profit trend. Losing your money can be traumatic, especially if the capital used should not have been risked in the first place.
Top 5 platforms to trade binary option in 2019
IQ Option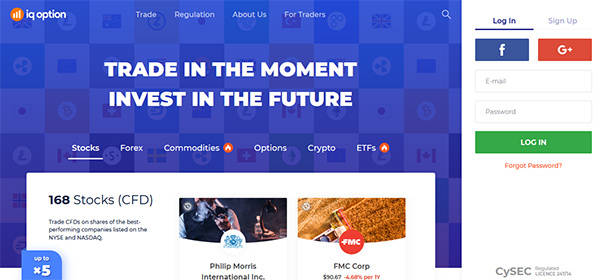 This is one of the fastest growing binary options. It was established in 2014 and by 2016 it had registered approximately 30 million active traders. If you are just dipping your feet in the trading world, you will find IQ Option to be quite reliable as it is specially designed in the favor of new traders. However, this does not mean you cannot benefit as an experienced trader, you can make the most out of the website's numerous trading markets. Many have tried it and experienced positive results, why don't you give a shot?
Olymp Trade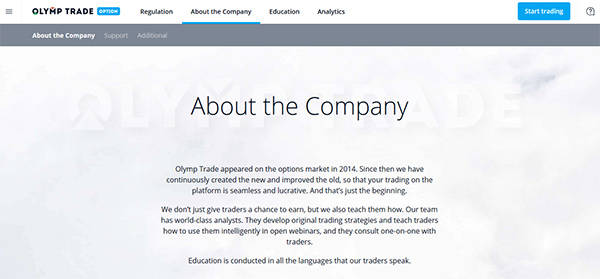 The new yet ambitious platform Olymp Trade is quite reliable due to its ability to combine innovative tools and industry practices that are aimed at delivering top-notch services. It has a demo account, plenty of analyzing tools, and numerous markets to trade from.
Binary.com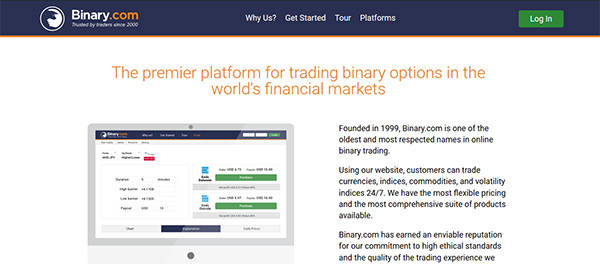 Binary.com perhaps one of the oldest binary options in the industry. It was established in 1999. It has very flexible trading conditions that always put the client in the control of their most tradable assets.
Binomo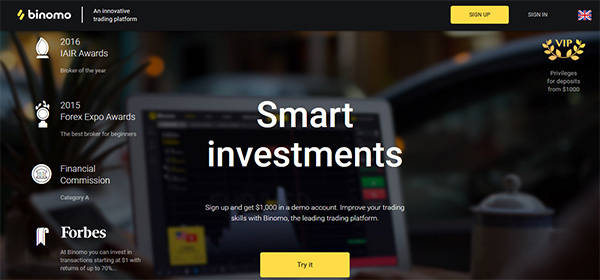 Although this platform has little or no information, it is registered and certified by CROFR, a Russian regulatory institution. However, the institution itself has no international recognition, which makes Binomo to be considered as unregulated. Note that from their client's feedbacks, the platform does not meet the contemporary customer needs.
24 Option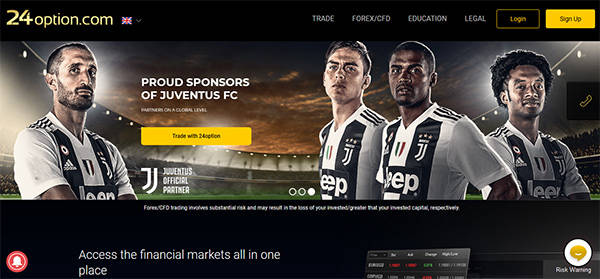 This platform began its operations in 2010. It has very simple tools that are designed to enhance a traders experience in the platform. As a new player, you get to enjoy a demo account to reduce your chances of losing.
Conclusion
According to the platform's prognosis, there is no doubt you should consider giving them a shot. IQ Option, Olymp Trade, and Binary.com offer demo accounts to new customers, which works best on improving your trading skills. Want to make some money in trading? Try any of the above platforms and experience the trading thrill yourself.