FxPro
| | |
| --- | --- |
| Min. Deposit100$ | Demo AccountYes, Free |
Rating
Free demo account.
Four different platforms you can choose.
Provides authoritative data and rich context on over 40 million companes.
Visit site
Forex is one of the most widely traded markets, allowing you to trade almost any currency pair you want. With that comes the need for reliable platforms and benefits that can help in giving you an edge. FxPro is a Forex trading platform that allows you to utilize many different tools to access well-known Forex pairs, as well as many of the exotic pairs too. Beyond Forex, you can trade CFD's on many of your favorite assets, allowing you to diversify your positions.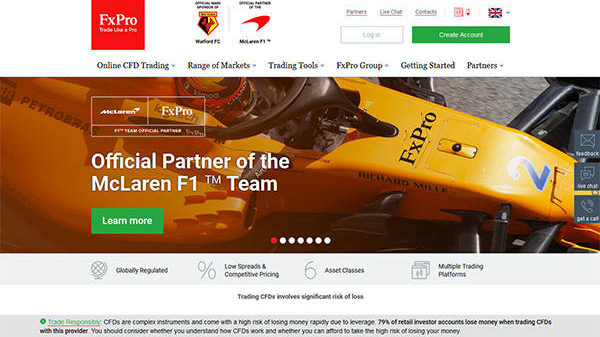 FxPro was founded in 2006 and has continued to expand and become one of the leaders in the Forex space. Voted 'Best Broker' by the Financial Times 2015-17, this brings a level of confidence you are working with some of the best in the industry. As stated, the company offers Contracts for Difference on six asset classes, giving you the ability to find what works best for you.
Another added benefit FxPro can offer is they provide four different platforms to trade on. They include FxPro MetaTrader 4, FxPro MetaTrader 5, FxPro cTrader and FxPro Edge. Having the variety to select the platform that best fits your needs is something many others simply cannot offer. With that, FxPro has continued with over ten year of excellence as a trusted broker in over 170 countries. There is a total of over 250 instruments to trade, which cover markets such as Forex, Spot Metals, and Futures. When trading, you want to ensure you have speedy execution and liquidity, and FxPro can execute most orders within 13 milliseconds. Lastly, being the recipient of multiple awards FxPro puts its name among the best in the industry.
FxPro Facts & Figures for 2023
The following is a compilation of the latest data on FxPro.com's About page:
Successfully expanded to 170+ countries and still growing
Authorized and regulated by the FCA, CySEC, FSCA, and SCB
Global Brands Magazine's Most Trusted Forex Brand, UK (2017)
Company capital is €100,000,000
70+ international awards
15+ years of industry experience
7 global sponsorships
4 trading platforms, 6 asset classes, and trade execution time of less than 11.06ms
7000+ orders executed every second
200+ employees
Over 370,000,000 orders executed so far by 100,000s of traders
| | |
| --- | --- |
| Instruments | 2100+ Forex, Stocks, Indices, Metals, Crypto CFDs, Futures, Energy, Shares |
| Licenses and Regulation | FCA, CySEC, FSC, SCB. |
| Demo Account | Yes |
| Islamic Accounts | Yes |
| Trading Platforms | FxPro Trading Platform, MetaTrader 4/5, FxPro cTrader, Android App, IOS App. |
| Minimum Deposit | $1 |
| Accounts | Over 2,000,000 clients. |
| Customer Support | Forum, Phone, Live Chat, Email. |
| Funding & Withdrawal | VISA, Mastercard, Maestro, Bank Transfer, Skrill, Netteler. |
Is FxPro Reliable?

One of the many questions traders ask before joining a platform or broker is if the company is reliable. With binary option platforms, this question certainly has to be asked, as there are several different less than optimal platforms out there. FxPro seems to make it a mission to distinguish themselves as a leader in the industry. The website offers many data points and the first is their credit rating. Their overall credit rating is a 95 when the industry average is a 66.
To take that a step further, they have two credit ratings, one with Creditsafe and the other with DueDil. Creditsafe is stated to be the world's most used provider for business credit reports. DueDil "provides authoritative data and rich context on over 40 million companes…". FxPro ranks among the highest when compared against other companies such as Forex.com and ETX Capital.
We can spend all day talking about the data points but it certainly appears the reliability is there. However, it's difficult to judge a book by its cover and is up to you to decide. For what it's worth, the company is the official sponsor of an English Premier League team and Formula 1 racing team. A fraud company would not likely go to these lengths to get their name seen.
FxPro.com prioritizes transparency and establishes top standards of safety for the funds of its clients. The online broker maintains client funds in different bank accounts, completely segregated from company funds. Moreover, it has been voted as the Most Trusted Forex Brand of UK (2017) by the Global Brands Magazine.
The following is a list of FxPro licenses:
FxPro UK Limited is regulated and authorized by the Financial Conduct Authority (FCA).
FxPro Financial Services Limited is regulated and authorized by the Cyprus Securities and Exchange Commission.
FxPro Financial Services Limited is licensed by the Financial Sector Conduct Authority (FSCA).
FxPro Global Markets MENA Limited is licensed by the Dubai Financial Services Authority
FxPro Global Markets Limited is licensed by the Securities Commission of the Bahamas
Types of Accounts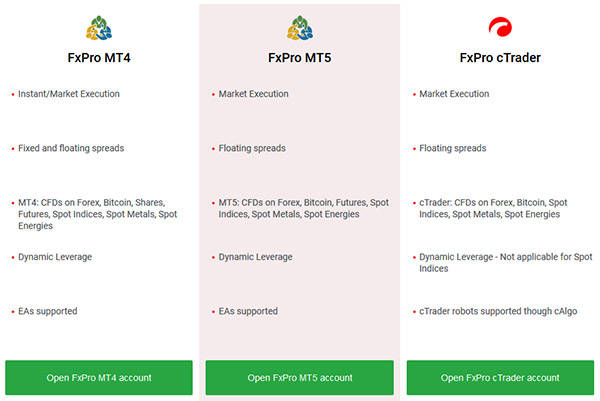 When searching for the right platform, it's important to identify the different types of accounts. Finding the right account ensures your needs are fulfilled without costing extra time and money. From their website, they appear offer three different accounts, which should fit most traders needs.
The first account is labeled a live trading account. With a live trading account, you are given a dedicated account manager. You also have the choice of selecting from the four different platforms that FxPro works with, including MetaTrader 5. Free trading tools and analysis with a minimum deposit of $100.
For those looking to up their game, there is a professional trading account, which is an upgrade from the retail live account. With the professional trading account, you can obtain higher leverage, which allows you to potential profit more. There negative balance protection and no dealing desk intervention. Also, you get prudent segregation of funds and the ability to switch to retail.
Lastly, if you are someone with a high net worth looking to access the Forex markets or other markets, you can open the VVIP trading account. According to the website, this account for not only for high net worth individuals, but also for those who are trading large volumes. With this account, there are no deposit or withdraw fees, free VPS, and a dedicated account manager. Also, you'll receive daily market analysis by Trading Central and exclusive events.
There seems to be an account to fit most peoples needs. With this level of service, odds are if you need something FxPro will likely assist you.
Trading Platforms
As mentioned, there are four different platforms you can choose from when deciding what to trade on. This section we'll go over the different accounts and a few of their features to help you decide which is right for you.
MetaTrader 4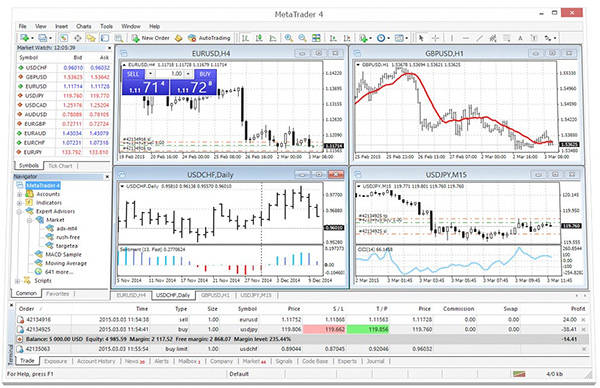 The first platform is FxPro MetaTrader 4, which is arguably among the most popular Forex trading platforms out there. When using this platform, you can trade across the several different markets advertised, such as futures, Forex, and spot metals. From there, you will have access to fixed and floating spreads, dynamic leverage, and EA back-testing facility.
MetaTrader 5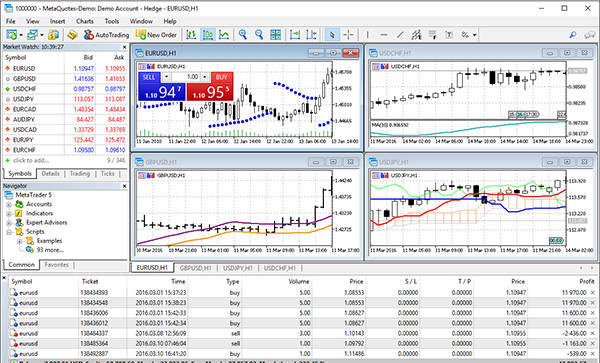 Next is FxPro MetaTrader 5 and FxPro was named Best MT5 Broker twice. Utilizing the MetaTrader 5 platform will give you tick chart trading, added timeframes, indicators and drawing tools. Also, you will have market depth information, integrated development environment for EA's and negative balance protection. Each platform offers different tools and benefits and it's up to you to decide what fits best for you. MetaTrader is a name that has been around for quite some time and many traders tend to gravitate towards.
FxPro cTrader
Third in their accepted platforms include the FxPro cTrader, which give you access to the full depth of markets. Some of the features of this includes spreads from 0 pips on major pairs, full market depth, no requites, and algorithmic trading through cAlgo. Algorithmic trading can be a wonderful asset, but it's important that you understand how the algorithm works before implementing.
FxPro Edge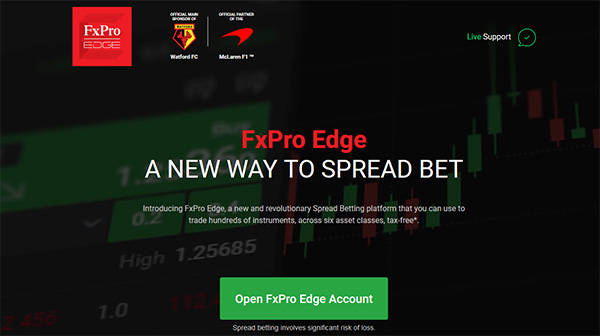 Lastly there is the FxPro Edge platform, which is called their revolutionary Spread Betting platform. With this account, you can trade Forex, shares, spot indices, spot metals and spot energies. Also, you have access to limited risk accounts at no additional cost, no commission and tight spreads.
With these several options to choose from, the variety of platforms are vast and one should fit most of your trading needs. Not many brokers offer this array of platform selection so ensure you take the time to find the one that fits best for you.
Trade the Worlds Financial Markets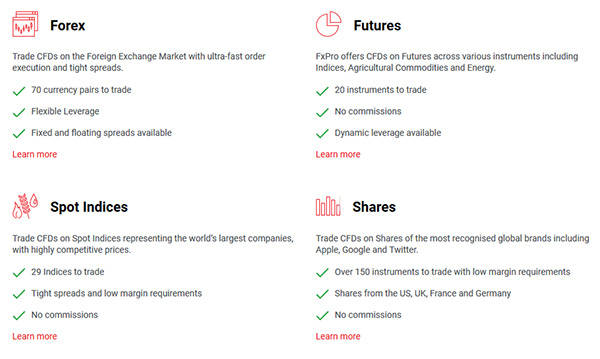 With FxPro, there are several products you can trade with the first and most obvious being the Forex market. FxPro allows you to trade CFD's on the Foreign Exchange Market. The ability to trade 70 currency pairs, flexible leverage, and fixed and floating spreads, trading Forex with FxPro goes toe to toe with the competition.
From there, you can utilize access to the CFD's on the futures market that includes indices, agricultural commodities and energy. With 20 instruments to trade, no commissions and dynamic leveraging, access to the futures market is made easy.
A common thread you'll note is these markets are traded using CFD's. This is a derivative that allows you gain access to rising and falling markets. Keep in mind that trading derivatives can be risky and is not for everyone. However, it can be an effective way to gain exposure to markets if used correctly.
How to Open an Account and Start Trading
Starting the setup process is simple as there is a registration button in the upper right hand corner of the homepage. From there, they will ask the usual information to begin the process. Step one is to register you live trading account and get ready for trading. From there, you will upload the appropriate documents to verify your account. Next, you can login to your account and begin funding and making deposits into your account. Lastly, you can begin trading, withdrawing and everything you need to begin building a profitable account.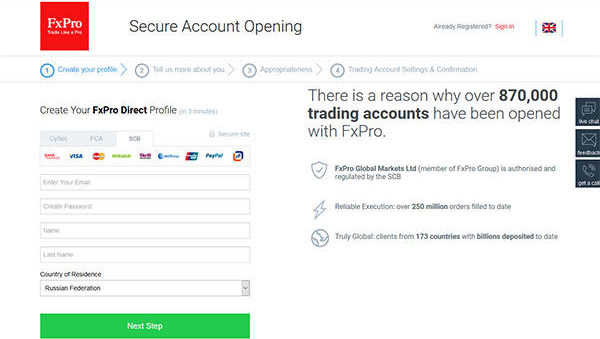 Demo Account
One important aspect of trading is to begin with opening a demo account. Not only does this allow you to test drive the platform before committing, but it also lets you test strategies without risking your hard earned capital. To open a demo account, you simply choose the demo account option and fill out the appropriate information. From there, you can detail your settings and tune the platform to fit your needs. Once you've test drove the platform, you can begin finding the right one for you and open a live account.
FxPro Trading Tools 2023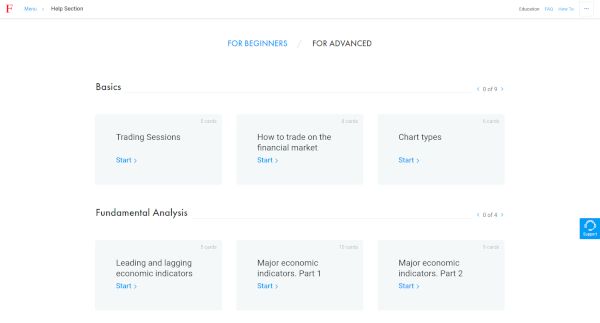 When you sign up at FxPro, you gain access to a wide range of trading tools, market analysis, and news that revolutionize your online trading experience. Check the following list:
Education
FxPro.com offers the best online trading education in two levels—beginner and advanced. You can get started with the basics and then move on to advanced topics such as technical analysis, psychology, and others. You can take trading tests or attend webinars and trading events.
News & Analysis 
This tool gives you enough information to execute successful traders. It includes an economic calendar, earnings calendar, market holidays, technical analysis by Trading Central, FxPro market news, and much more. 
You can also gain the benefits of trading tools such as FxPro Direct App, which allows you to manage your trading accounts on the move; FxPro Calculators; Trader's Dashboard, where you can access all the trading widgets; FxPro VPS, a virtual round-the-clock server for Expert Advisors (EA); and a download center from where you can select and download trading platforms.
Funding and Withdraw

To view a complete list of the deposit and withdraw information you can visit their webpage. However, general times and turn around appear to be in line with market standards. For those under CySec regulation, you can use payment methods that include bank to broker transfers, Visa, PayPal, and Skrill among others. Withdraws are nearly one business day across the board, which is important for those of you needing to live off of your trading revenue.
Overall FxPro appears to be one of the more robust brokers out there and offers a variety of platforms to choose from. With their market experience and proven data, it seems there isn't much to hide. They are also a main sponsor for an English Premier Team and seem to be a leader in the industry. The only draw back is everything appears to be traded as a CFD, which can be risky. Take the time to learn the platforms and brokers by opening a demo account. After, there are a few accounts to choose from and one is bound to fit your needs.
FxPro FAQs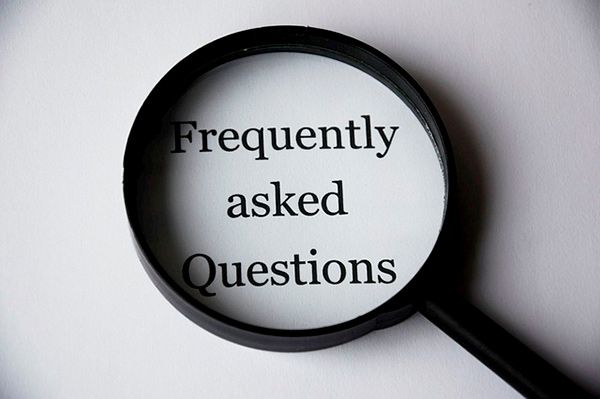 What are the benefits of signing up at FxPro?
Here are some of the advantages of trading on FxPro's online trading platform: • CFDs on a variety of instruments such as indices, futures, energies, shares, and metals • Free educational material • Trading tools and demo trading accounts • Customer support in 20+ languages
How can I protect my data at FxPro?
FxPro gives priority to client data protection. It follows the best industry practices. You will find details of the same in its privacy policy. Also, FxPro advises traders to take the following steps to protect their data: • Don't share your password with anyone. • Do not click on links or open attachments in emails from unknown senders. • Make transactions only through FxPro's secure direct portal. • Change your password regularly.
Is my personal information safe at FxPro?
FxPro takes all the required steps to protect your personal information. The online broker encrypts your passwords and stores your personal data on secure servers. Nobody, except authorized and trusted employees of FxPro, can access your data.
How many accounts can I open at FxPro?
FxPro allows traders to open up to five accounts. You can open extra accounts through FxPro Direct.
Are swap-free accounts available at FxPro?
Yes, FxPro offers swap-free accounts, but the online broker may apply fees on trades involving certain instruments, which are open for a specific number of days. If you want to open a swap-free account, send an email to [email protected].
What is the FxPro App?
The FxPro App is a mobile account management feature that enables you to trade on a multiplatform account. Here are the main features of FxPro App: • Trade six CFD asset classes. • Complete the verification procedure, create new accounts, withdraw funds, change passwords, and top-up accounts with multiple funding options via the app. • If you have questions, contact the 24/5 customer support via the app. • Keep updated on the latest economic news through the economic calendar. • Use push notifications to track market events.
What is FxPro VPS?
FxPro VPS is a feature that gives you access to BeekFX's virtual private server (VPS). BeekFX is among the largest providers of VPS solutions in the world, operating in data centres in London Equinix. You can load your cBots and MT4 EAs on the server and make them trade for you even when your computer is not running.
Which trading platforms are supported by FxPro?
FxPro Trading Platform, MetaTrader 4/5, FxPro cTrader, Android App, IOS App.
What is the minimum deposit required to open an account with FxPro?
Conclusion – Should You Sign Up at FxPro?
We found FxPro to be the ideal online FX broker for beginners, intermediates, as well as advanced traders. FxPro welcomes all with open arms and teaches them all that they need to know about trading. You can then use the trading tools to take your online trading to a completely new level. We recommend getting started with a demo account and move on to a live account once you have learned the basics.
FxPro Alternatives
| | | | | |
| --- | --- | --- | --- | --- |
| | Minimum Deposit | Deposit Bonus | No Deposit Bonus | Islamic Accounts |
| Binary.com | $10 | 20-100% | $20 | Yes |
| Olymp Trade | $10 | 50-100% | No | Yes |