Learn How to Trade Binary Options (Free Courses & Guides)
Binary options have provided individuals with opportunities to enter markets that normally would be unattainable. Using small initial deposits and small position sizing, it can be enticing for an individual to begin messing with binary options. Furthermore, there are many products claiming to have the end all be all strategy that scams people into thinking they can get rich quick.
There is no such thing as getting rich quick in the markets and binary options are no different. Instead of relying on others for your profits, begin taking the time to learn trading strategies. Invest your time first instead of your hard earned money.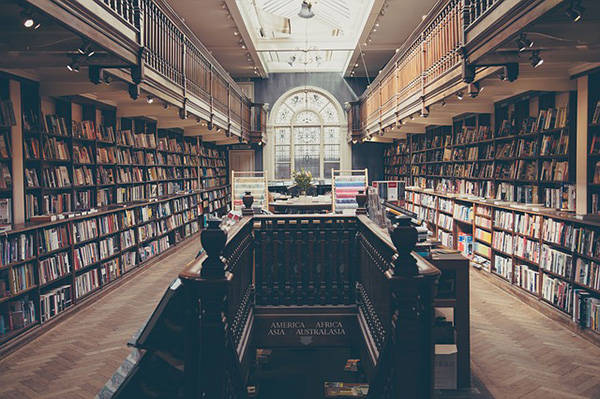 Begin by understanding the different ways you can trade binary options and how they work. Binary options are simple, but don't let that fool you into thinking they are for everyone. Many reputable platforms will allow you to open a demo account, allowing you to gain a level of familiarity with the products.
From there, you should begin taking the time to learn and study the different materials relating to trading and more specifically, binary options. A few of the robust platforms that offer great educational products include Olymp Trade Academy, IQ Option, and Binary.com. Many course are free and if you take the time to study each, you can begin formulating a solid game plan.
Olymp Trade Academy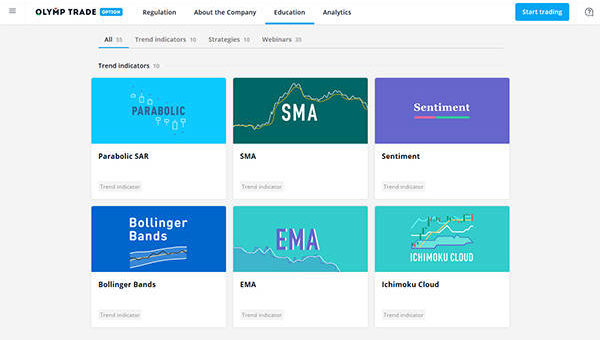 First on the list is Olymp Trade and their education section of the website. With binary options, they typically range from 60-second binary options all the way up to daily and even weekly. That being said, there are many different strategies and indicators you can utilize when trading, and Olymp Trade does a good job covering the more popular ones.
They begin with the trend indicators, which include SMA or simple moving average, Bollinger bands, and the Ichimoku Cloud. Once you click on the desired indicator, you will be able to learn more about it and gain a better understanding. Indicators are one of the ways technical analysis is completed and it allows traders to find entry and exit opportunities.
Moving from there, traders can begin looking at strategies. Within a strategy, indicators are used because not only indicators fit all strategies. A few strategies Olymp Trade offers include moving averages, MACD, and relative strength law. The benefit to learning your own strategy includes having a working understanding from which you can edit and adjust as you see fit.
Lastly on the website of Olymp Trade, they offer a various selection of webinars. These are a wonderful to engage with individuals during a live session or to watch later to gain a better understanding of certain areas in the market. A few of the webinars include technical analysis using candlesticks and fundamental analysis using the basics. No matter your choice, odds are you will find something to benefit and grow from with Olymp Trade.
IQ Option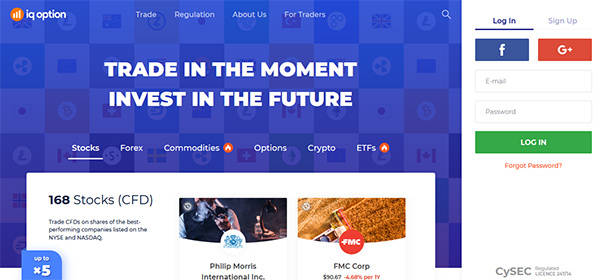 Transitioning from Olymp Trade to IQ Option, you will find that IQ Option offers videos on different aspect of the market, instead of content on the variety of strategies and indicators on the market. Regardless of what a platform offers, you should take the important and most applicable information from each and begin formulating your own strategy and game plan.
A few of the videos include Forex and how to start, RSI, and MACD. While there many not have been videos on Olymp Trade for these, you can take information from the trend section of the Olymp Trade website and bring that knowledge to the video section of IQ Option. It benefits you the trader to obtain information from various sources to avoid biased information and ensure everything is constant across different forms of media.
While watching videos may take time, the ability to not depend on someone else's strategy will liberate you from generating income based on someone else. Also, you will gain a better understanding of the markets, which you can take with you no mater what markets you trade and with any product you use.
Binary.com
Last on our list is Binary.com, which has an in depth education center on their website. When you first land on their education page, you will see there are webinars, information on commodities, and weekly signals. From there, you can begin learning with the daily market report and even E-books. With a wide variety to choose from, there is sure to be a method of consumption that fits your needs.
If you dive into the webinar section of the page, you can see the various recorded webinars you can go back and visit. However, it appears that they charge to have access to these archived webinars but if the price it right, it can be beneficial to you as a new or developing trader. As previously stated, it is important to take bits and pieces from each educational center and begin formulating your own trading strategy.
Practicing
Now that you have an understanding of where to find information and what to search for, you can begin formulating a strategy to begin practicing. This is arguably the most critical part of entering the market for the first time because there are two schools of thought at this stage in the game.
The first and what many people do is open a live account, fund it, and begin trading. While this may work out for a select few individuals, this methodology of trading is likely to end in disaster due to two reasons. First is you have likely never tested your strategy and are unsure if it will work current market conditions.
In order to understand your strategy, you have to put it to test first. The second is you will blow your trading account on chasing trades, combined with a strategy that's never been tested. While you can use real money to begin trading, there is a more advisable option and this is opening a demo account.
Practicing by using a demo account is the most effective way to test a strategy and see if your desired goals have merit. The first benefit to using a demo account is you are not using your hard earned money to test strategies out. You work hard to build your principal balance so it doesn't make sense risk what your balance to learn. Secondly, you can test as much as you want and begin fine tuning your strategy. By participating in the market without risk, you can fine tune with risking anything. This is a wonderful way to learn and grow you knowledge base as a trader.
Now, keep in mind that if you begin practicing on a demo account and switch to a live account, the psychology behind the trading will shift. It can be similar to practice driving a car with a simulator but then getting behind the real of a physical car. You know what goes on but the act of having skin in the game can change your decision making process. The best way to transition is to stick with your plan, understand your goals, and keep doing it. Consistency is key in many things in life and it is no different with trading and binary options.
With a better understanding of how to go about learning and trading the market, let us recap a few of the important details, starting with learning your own strategy. Binary options and the market in general offers many get rich quick schemes and while they may be tempting, they will likely lead to a loss of money or risk your personal information. Instead, begin formulating a plan and financial goal that best fits your needs.
From there, start looking into the different websites mentioned above and view the educational sections. At this stage, you'll begin formulating your strategy and honing in on exactly what will build your strategy. Whether it is MACD or Bollinger bands, you will find what you need to continue growing as a trader. Remember to take information from a variety of sources to ensure you are forming a well-rounded opinion.
Lastly, begin trading in a demo account to begin testing the strategy you have in place. When utilizing a demo account, you are not only saving your hard earned balance but a demo account allows you to test and fine tune your strategy. At this point, you can switch to a live account and put your skills and strategy to the test. Be prepared though because when you start taking losses, you may be surprised at how you react. The goal is to stick with your plan and not waver.
Take your time and slowly adjust as you go. Education is key and once you stop learning, that is moment you make yourself vulnerable. Binary options have allowed people to access markets they normally would not be able to, and this can open up new revenue streams for traders. However, ensure you trade carefully and stick to your plan, and odds are you will begin seeing results.