Plus500 Review
| | |
| --- | --- |
| Min. Deposit100$ | Demo AccountYes, Free |
Rating
2000+ trading instruments.
Simple and intuitive online trading platform.
Safe, secure, licensed and regulated CFD & Forex broker.
24/7 customer support.
Visit site
Plus 500 is one of the top providers of Contracts for Difference (CFDs). The online broker delivers trading facilities on commodities, shares, Forex, ETFs, indices, options, and commodities on an innovative and easy-to-use trading platform.
Plus500 Limited, the parent company of Plus500, is growing at a rapid pace and is listed on the Main Market for Listed Companies of the London Stock Exchange. The company has its headquarters in Malta.
Brief History of Plus500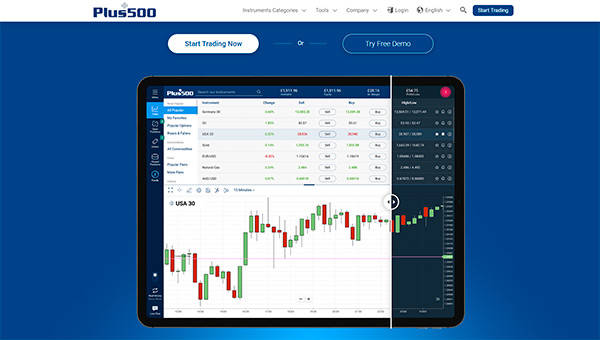 Launched in 2008, Plus500 presents a platform on which you can trade on movements in the prices of cryptocurrencies, shares, commodities, indices, Forex, options, and ETFs without having to purchase or sell the underlying assets.
The company launched a web-based version in 2010 so that smartphone, Linux, and Mac users could trade online. By 2011, Plus500 was processing 2,000,000+ transactions every month, and the same year, it launched a native trading app for iOS, which soon became the top-rated CFD trading app at the Apple Store. The following year, Plus 500 launched a native trading app for Android devices.
Why Sign Up at Plus500?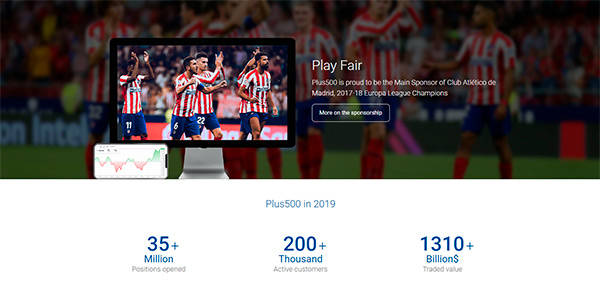 The following features make Plus500 an ideal online trading platform for CFD traders round the world:
Offers 2000+ trading instruments, 24/7 customer support, and free real-time quotes
Zero percent commissions and absolutely no hidden costs
Simple and intuitive online trading platform
Safe, secure, licensed and regulated CFD & Forex broker
Watch video tutorials to learn how to trade
Open a retail or a professional trading account
Enjoy trading services in 30+ languages
Download CFD trading apps for iOS and Android at the Apple Store and the Google Play Store, respectively
Plus500 – Four Licensed and Regulated Entities

Plus 500 is available in 50+ countries through four major regulated and authorized entities. These four entities are Plus500 Cyprus, which is licensed by CySEC; Plus500 Australia, which is licensed by FMA, FSCA, and ASIC; Plus500 United Kingdom, which is licensed by FCA; and Plus500 Singapore, which is licensed by MAS. The first three entities offer retail and professional types of accounts, but Plus500 Singapore offers only retail accounts.
All four entities share the following top features:
They offer negative balance protection for all types of accounts.
They maintain trader funds in separate accounts.
They offer CFD trading services in over 32 languages.
You can contact a customer support agent if you have questions regarding the difference between the four entities. If you have a Plus500 account and would like to move to a different entity, you can discuss the possibilities of doing so with a customer support agent.
Opening an Account – Types of Accounts

You have to create an account at Plus500 to start trading CFDs on indices, Forex, cryptocurrencies, and shares. When you open a Plus500 account, you become part of a dynamic trading community of millions of traders.
Here is a brief guide to opening an account at Plus 500:
Click on the large "Start Trading Now" link you see on the homepage.
This takes you to a page with two options—Real Money and Demo Mode.
If you are ready to start trading for real money, select the Real Money option.
If you would like to spend some time learning how to trade without risking your own money, select the Demo Mode.
Real Money Account
Here are the steps to create a real money account at Plus500:
Click on Real Money.
Enter your email and create a strong password.
Click on "Create Account."
You will be instantly logged in to your Plus500 account.
You also have the option of logging in with your Google or Facebook account.
Free Demo Account
You have to click on the "Demo Mode" option and follow the same steps outlined above to open a demo account.
A demo account allows you to practice trading without risking your own money. You will not make any real money profits when you trade on a demo account. When you are ready to start trading for real money, you can easily shift to a Real Money account.
Trading Tools and Platforms

Plus 500 offers the following trading tools to help you make profitable trading decisions:
Economic Calendar – Use this calendar to keep track of financial events around the world.
Risk Management Tools – Plus500 offers a set of simple, but powerful tools to help you manage the risks associated with trading. Here is a brief introduction to these tools:
Stop Limit and Stop Loss – You can add Stop Loss (close at loss) or Stop Limit (close at profit) orders to your trade when you open new positions. Plus500 automatically closes your trade at your rate in order to maximize your profit and minimize your loss.
Guaranteed Stop – When you add a Guaranteed Stop order to your trade, you are limiting your potential losses. Even if the instrument price is not moving in your favour, Plus500 will automatically close your position at the rate you specified without any slippage risks.
Trailing Stop – You can use this feature to lock in certain amounts of profits. Your trading position remains open as long as the instrument price moves in your favour, but automatically closes when the market moves against you.
Alerts – Plus500 sends you real-time SMS, push notifications, and emails based on daily or hourly percentage changes, traders' sentiments, and price alerts. You can create an alert whenever you wish by clicking on "Create an alert now" on the Alerts page.
Traders Guide – If you don't know how to trade, Plus500 is a good place to get started. The online trading platform is home to a traders' guide with plenty of video tutorials on training. When you feel that you have learned enough, you can open a demo account and practice trading without risking your own money.
Trading Instruments

Plus500 offers the complete CFD trading package, featuring tight spreads, zero commissions, and reliable & fast order execution.
You can use Plus500's CFD service to trade on the following instruments:
Indices: You can filter indices by sector and country. Some of these indices are UK100, USA 30 – Wall Street, USA 500, France 40, Italy 40, Spain 35, Sweden 30, and UX Brexit High 50 Index, among others.
Forex: Plus500 offers CFDs on a variety of currency pairs such as EUR/USD, EUR/CHF, AUD/USD, US Dollar Index, AUD/NZD, GBP/JPY, NZD/CAD, and others.
Commodities: Trade CFDs on commodities such as natural gas, silver, coffee, platinum, sugar, cotton, corn, cocoa, and others.
Crypto: Plus500 offers CFDs on Bitcoin, Litecoin, Ripple XRP, NEO, IOTA, Ethereum, Monero, Cardano, Tron, and others.
Shares: Some of the most popular shares include Amazon, Nio, Beyond Meat, Facebook, Tesla, Visa, BT, Cannabis Stock Index, and Alphabet.
Options: Among the popular options are Call 380/Feb/Europe 50, Call 1540/Mar/Gold, Put 195/Feb/Alibaba, and others.
ETFs: Trade ETFs such as iShares Silver, OIH-Oil Service, Commodity Index Fund, GLD Gold, NUGT, and DVY.
Banking Information – How to Make Deposits and Withdrawals at Plus500
You have to click on "Funds Management" and then on "Deposit" to make a deposit at Plus500. Choose your preferred deposit option from the list of options, fill in the required details, and submit them.
Each deposit option at Plus500 has its own minimum/maximum limits, and information about these limits is available in the Deposit section.

Plus500 offers the following deposit methods:
Visa & MasterCard credit/debit cards
Electronic wallets such as Skrill or PayPal
Bank Transfer
You can use your preferred deposit method to withdraw your profits as well. When you are ready to make a withdrawal, you have to navigate to Funds Management – Withdrawal. Choose your withdrawal option, fill in the required details, and submit them.
Plus500 normally processes payout requests in 1 – 3 banking days. The online trading platform needs this time to conduct the required verification and security checks.
Plus500 offers the following withdrawal options:
Electronic Wallets: Skrill or PayPal withdrawals will reach your account in 3 – 7 banking days after the online trading platform authorizes the payment.
Bank Transfer: Bank Transfer withdrawals take 5 – 7 days from the date of authorization. However, this time frame varies according to bank and country.
Credit Cards: The withdrawal time frame depends on your bank and country of residence.
How to Contact Plus500
Plus500 has a support team that assists traders with any issue, 24/7. You can choose the following methods to get help or information at the online trading site:
Online Chat: Click on Online Chat on the Contact Us page to open the live chat window. Enter your name and email address to start chatting with a trained customer support agent.
Whatsapp: Click on WhatsApp on the Contact Us page to send Plus500 a message. Alternatively, you can open your WhatsApp account and send a message to +44-7780-007-138.
Online Contact Form: This form is available on Plus500's Contact Us page. Enter your name, email address, and subject of query. Choose your type of query from the dropdown menu. Type your message. Upload a file if required. Check the box to prove that you are not a robot and click on "Send Query" to send your message to Plus500.
Social Networking Sites: You can interact with Plus500 staff and fellow traders on the social networking sites Facebook, Instagram, and Twitter.
FAQs – Commonly Asked Questions at Plus500

Q1: What happens to my funds if Plus500 were to shut down?
A: Plus500 implements a client money protection policy, according to which:
It holds clients' money in separate bank accounts in compliance with its regulator's client money regulations.
The company never uses client money for hedging.
Plus500 does not initiate speculative market positions.
It does not expose itself to sovereign or corporate debt.
It does not invest funds from retail clients.
Q2: Do I have to pay any fees for using the Plus500 trading platform?
A: You will not find any hidden fees at Plus500 as the company makes profits from the market spread. It also covers most of the payment processing fees. Overnight funding amounts are either subtracted from or added to your trading account. Plus500 charges foreign currency conversion fees for trading instruments in currencies different from your account currency.
Q3: How many trading accounts can I open at Plus500?
A: Plus 500 does not allow you to open more than one trading account. However, the online trading platform may assess your case and permit you to open an extra account.
But you have to operate your extra account independently, and Plus500 will not allow you to make fund transfers between the two accounts.
Q4: How do I load my demo account with virtual money?
A: Plus500 automatically funds your demo account whenever the balance shows €200 or its equivalent.
Q5: Can I lose more money than I have in my trading account?
A: You will never lose more money than you have in your account at Plus500 thanks to a special feature called "Margin Call." Plus 500 makes a margin call and automatically closes open positions if your balance falls below the maintenance margin. Plus500 also advises you to monitor all your open positions closely and make sure that your trading account contains the required funds.
Plus500 Pros & Cons – Should You Sign Up?
Before you decide whether to sign up at Plus500, you have to weigh the pros against the cons.
Pros
Simple and user friendly online trading platform
Licensed by a number of regulatory bodies across the globe
Zero percent commission
Tight spreads
Useful trading tools and risk-management tools
Belongs to a reputed and experienced company
Cons
Offers only CFDs and Forex trading options
Education section requires improvement
Market research and analysis tools are inadequate
Trading methods such as scalping and hedging are not allowed
To conclude, Plus500 is a licensed and regulated broker and it is safe to trade with them. But the broker may not be able to satisfy all your trading needs. For example, if you are a day trader, Plus500 is the wrong broker for you as it does not permit scalping. Also, if you are a beginner, you may prefer an online broker that offers a wider range of educational sources.
We recommend Plus 500 for its easy-to-use trading platform, industry experience, 2000+ trading instruments, excellent customer support, negative balance protection, and absolutely no hidden fees.
If you are a beginner, start with a demo account as CFD trading is associated with high risks. Find out exactly how CFD trading works before you start trading with real money.