HotForex
| | |
| --- | --- |
| Min. Deposit5$ | Demo AccountYes, Free |
Rating
Great trading conditions.
Smart trading.
Superior trading tools.
Free demo account.
Safe and secure platform.
Visit site
Accessing the Forex markets has never been easier as financial technology continues to afford the retail investor and trader opportunity to profit from the world's largest market. Forex is the most traded and most liquid market in the world and having the ability to profit from it can add a benefit to your portfolio that other markets are unable. This review will go over the Forex trading platform HotForex, and allow you to take a peek under the hood and get into some of the details. Forex continues to be a large market and Hot Forex may be the platform for you.
What is HotForex?
As the name does well at explaining, HotForex is a platform geared towards the trading of Forex. They are an award-winning Forex and commodities broker that gears towards both the retail and institutional client. With 8 years of experience operating in this industry, this can give potential clients confidence that the company knows what it's doing.
The company provides various account types that all you to trade Forex and CFDs.
Is HotForex Reliable?

When looking for the right broker or platform, it is important to know what their governing country is. For many, it will be an off-shore company and HotForex is no different. On their website, they show their business is located in Saint Vincent and the Grenadines. However, there are some errors on the page, which is ironic given that this is their regulatory page.
However, beyond that there is nothing left to view and for many it would be reassuring to see more. You can view legal documentation, which may bring you piece of mind, but to test the true reliability of a platform or broker, you should demo the platform and see how it performs. Also, another gage of reliability is to view how they secure funds and ensure they are up to standards.
Account Types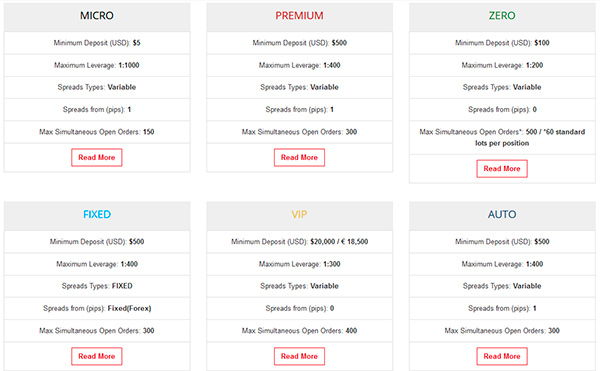 With any broker or platform, it is important to identify the various account types. First off, there should always be a demo account a Hot Forex does not disappoint. At the very top of the website you'll see there is a demo button that will take you to the page where you can sign up for a demo account. The benefit to having a demo account is it allows you to gain a familiarity with the trading platform of your choice. Also, it allows you to test trading and investing strategies without risking your hard-earned capital.
Once you've become familiar with the demo account and feel comfortable opening a live account, there are a few options to choose from. From those looking to invest $5 all the way to five figures, each account has with it, its own benefits.
There are eight different accounts, ranging from Micro to VIP and everything in between. Each has specifications regards to spread width, maximum leverage allowed, and the limit on simultaneous orders. Having the ability to select from many choices gives you the ability to find what fits your needs best. When selecting the right trading broker and platform, you want to find what brings you the most value for you dollar.
To open an account, it's quite simple. You fill out the form as indicated and provide the correct information. For those located in the United States, you are unable to join due to regulatory restrictions. Once you've signed up, you'll likely need to provide information to prove your identity, which is standard among many of these types of brokers and platforms.
Premium versus VIP Accounts

While we've stated here are eight accounts to select from, let us go over two of them, which include the premium and the VIP.
Starting with the Premium account, the minimum deposit is $500, and this may seem a bit on the high side, but for many traders this is a good balance to start with. From there, the Premium account offers 1:400 maximum leverage with variable spread types and spreads that are 1 pip wide. Other points to consider are the minimum trade lot is 0.01 and the maximum size is 60 lots. For those who have many open positions, the maximum simultaneous open order number is 300.
For those of you with larger amounts and are looking for more, you can look into the VIP account, which has a minimum balance of $20,000. Besides the minimum deposit requirement, what sets the VIP account apart is you will be given three private consultations by HotForex's head market analyst. From there, you will be given a complimentary subscription to the daily market updates SMS service.
Other points to consider with the VIP account include spreads starting from 0 on Forex pairs, max leverage is 1:300, minimum trade size is 0.1 and there are no bonus offers. While the initial deposit amount may seem steep, depending on what you are searching for, this may give you value for your dollar.
Available Trading Instruments

Once you've looked at the various accounts, it is equally important to view the trading instruments available. If you want to trade a wide variety of markets, you'll want to ensure you have access to them. HotForex has a page dedicated to the list of their assets and we'll go over them briefly here.
First on the list is cryptocurrencies and as they gain in popularity it is important to have access to this market. While it may seem like something that isn't a good fit, having the ability to trade these markets is a benefit. The different cryptos you can trade include Bitcoin, Dashcoin, Ethereum, Litecoin and Ripple. All of these are mainstream coins and can add a unique aspect to your trading portfolio.
Given by the name of the company you are able to trade many of the Forex pairs on the market. You'll have to decide when choosing an account what benefits you are looking for and find what fits your needs the best. All of the popular Forex pairs are available and this give you the ability to trade what you see fit.
Metals are another popular category that HotForex offers, which in include Gold and Silver. While many of these are classified among groups as a safe haven asset, you can find many tradable opportunities within these markets.
For those looking for more traditional means of trading, you can gain access to the world's leading indices and shares of publically traded companies such as Facebook or Apple. These can be wonderful market to day trade or swing trade. Having access to these and the rest of the markets can allow you to trade and keep your money in one place.
The last few markets include energies, commodities and bonds. Energies include oil and gas, which can be more volatile, leading to trading opportunities.  Commodities include coffee, copper and sugar and for those looking to invest in lower risk instruments there are bonds.
Trading Platforms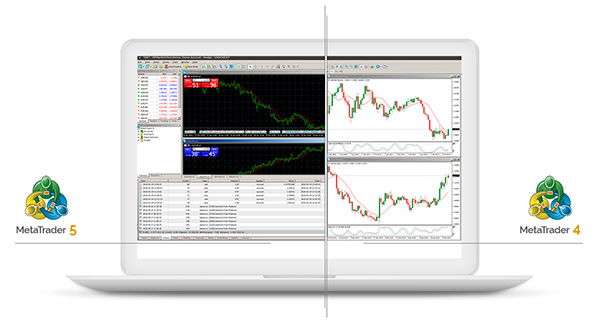 It is important to know what trading platform you can and cannot use with each broker and HotForex provides you with the compatible platforms you can use. MetaTrader 4 is the platform that HotForex is compatible with and that allows you to use their desktop terminal. For those with more than one account, you can utilize the Multiterminal account and if you at a computer without the platform downloaded you can use the web terminal.
For those on the go and looking to stay in touch with, you can count on the mobile app, which is available for both iPhone and Android users, along with the iPad. Having access to a mobile trading platform is important as we are always on the go and having the ability to enter and exit trades wherever is important.
Free Education

A credible platform should provide their clients with content that allows them to become educated on various topics and information. The various educational options provided to you include Forex trading webinars, Forex tutorials and educational videos, videos geared towards Forex trading and daily market analysis.
While having a robust educational section may not be the end all for some, it is value added as you can one-stop shop and not mess with obtaining information elsewhere. Overall, their educational section is full of information that you should find beneficial.
HF Copy

HotForex Copy, "…allows traders to join forces with each other to try and master the markets". This service offered to traders is essentially allowing you to mimic other traders and mimic their investments via funds. You can view their funds and find one that fits your needs, or on the other hand if you have an idea or pattern you find profitable you can share it with the community.
However, if you are looking to invest as a copier, you will still want to understand the markets and strategy because you want to ensure your funds are invested properly.
Exclusive Trading Tools

Along with the account benefits and educational options, there are various tools that HotForex provides their clients. The first is the app, which allows you to live stream market rated and obtain information relating to the daily market analysis.
From there, you can access an economic calendar, which is important for those trading Forex as you'll want to know what is affecting your currency pairs. Also, you can subscribe to an SMS service that will alert you to trades and potential market entry points.
Other tools include trader boards, one click trading, and auto trading. There are several other tools and this is another reason that the value of this broker may be known throughout the community.
Deposit/Withdraw

As with any company, it is important to understand the timing of the withdraw and deposit process because this is your money that you'll be trading and investing, and ultimately living off of.
The methods of depositing funds include wire, bank card, and cryptocurrencies such as Bitcoin. Timing varies for each as a wire can take as little as 2 days, while a bankcard may take only 10 minutes. This option is more of a personal preference but being informed of your options is important.
Withdraws work in a similar manner and can offer you various turnaround times as well. Note that if you deposit via bankcard, you will only be able to withdraw what you've deposited and if your balance is greater, the difference will be sent via wire.
Overall Rating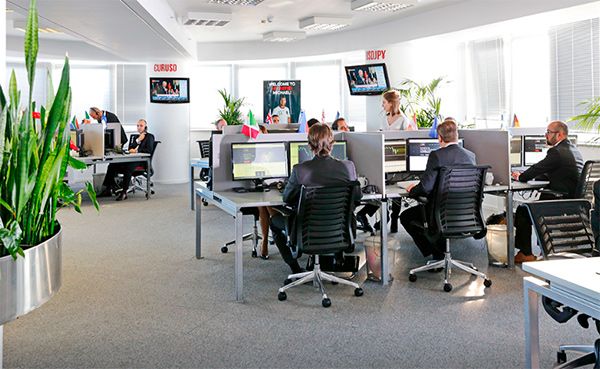 Overall, this platform has everything you'll need to begin trading and then some. Ensure you take the time to open a demo account and see for yourself. Have you ever used the platform? If so, leave a comment below and let us know how you liked it or what you didn't. Also, if you have questions ask the community and let real traders and investors help answer your question.