IG Markets Review
| | |
| --- | --- |
| Min. Deposit1$ | Demo AccountYes, Free |
Rating
Regulated and authorized by the Australian Securities and Investment Commission (ASIC).
Winner of Multiple Industry Awards.
Excellent mobile app.
Visit site
IG Markets is an online CFD trading platform established in 1974. It is home to a thriving community of over 178,000 traders from different parts of the world and offers more than 16,000 trading markets.
Here are 7 reasons to choose IG Markets:
Trusted and Regulated – IG Markets is regulated and authorized by the Australian Securities and Investment Commission (ASIC).
Committed to Customer Satisfaction – IG Markets focuses on customer satisfaction and customer retention. It is associated with the FX Global Code of Conduct, which has established common guidelines for excellent trading practice.
International Online Broker – IG Markets accepts clients from different parts of the world and has sales offices in 15 countries across five continents.
Winner of Multiple Industry Awards – The broker has won multiple awards in recognition of its excellent services and innovative technology. Some of these awards include the Best Overall Personal Wealth Provider Award 2018 at the Online Personal Wealth Awards and the Best Multi Platform Provider Award 2018 at the ADVFN International Financial Awards.
Trade Anywhere – You can trade in browser or via native app on any device of your choice.
Protected Funds – IG Markets protects client funds by maintaining it in separate accounts. The broker not only ring fences client funds from its credits, but also refrains from using traders' money for business activities.
Transparent Fee Structure – IG Markets makes most of its money from the point spreads. You may also have to pay additional charges such as FX conversion, overnight fees, share CFD commission, and inactivity fees. But there are absolutely no hidden costs involved.
Types of IG Markets Accounts – How to Register

Before using IG Market's user friendly trading platform and get expert trade ideas and excellent customer support, you have to create an online trading account.
You can create two types of accounts at IG Markets—a demo account or a live account; and the procedure for doing so is the same. While a live account allows you to trade for real, using real money, a demo account allows you to learn trading without taking any risks, using virtual money.
Take the following steps when you are ready to open a trading account at IG Markets. It takes not more than two minutes:
Complete a simple online registration form. IG Markets asks you about your trading knowledge so that it can deliver the best trading experience.
Verify your identity instantly.
Load your newly created trading account. When you make some trading profits, you can easily withdraw them to your personal account.
In addition to a live account and a demo account, IG Markets offers the following different types of accounts. The procedure to open these accounts is more or less the same:
Personal Account – You can open a personal account in less than five minutes. You don't need to maintain a minimum balance and the Forex broker does not force its personal account holders to either fund their accounts or purchase trades.
Corporate and Trust Accounts
Self-managed Super Fund (SMSF) Accounts – You can apply for this type of account only if your liquid assets exceed AS$1 million, including SMSF. You also need to provide supporting documents at the time of registration.
Joint Accounts
Trade on the Go at IG Markets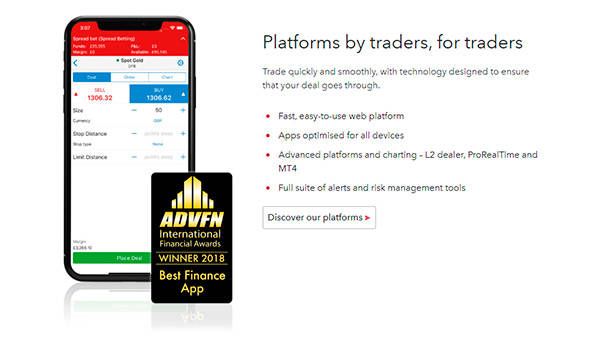 IG Markets offers dedicated mobile trading apps for iPhone, iPad, Windows Phone, and Android. To find the app for your device, you have to visit the app store for your device and search for IG Trading. You will find it very easy to download and install the app on your smartphone or tablet.
Once you download and install the app on your mobile device, you can easily access IG Markets by tapping on the icon created on your home screen. You can then either access an existing IG Markets account or created a brand new one through your app's sign-in page.
Markets to Trade

IG Markets offers a range of 1600+ markets to trade and keeps introducing more to the list.
Indices
You can trade CFDs on the major stock indices of the world, including more 24-hour markets and low margins than any other Forex broker in the industry. For example, you can trade Australia 200 on a four-point spread out of hours and Germany 30 on a five-point spread.
Forex
Foreign exchange, also known as Forex, presents a wide range of opportunity for traders who know exactly how to use its volatility to their advantage. Trade currency pairs such as EUR/USD, EUR/GBP, USD/CHF, and EUR/JPY, to mention just a few.
You can trade 8000+ international share CFDs at IG Markets. These include Apple Inc, BP Plc, Netflix Inc, and Facebook Inc, among others.
Commodities
IG Markets' commodities product works just like index CFDs. You will pay funding charges for holding your position overnight. Since there is no fixed expiry, IG Markets can offer continuous charting on commodities. You can get technical analysis as long as you need it. Since IG Markets uses past data to backdate charts for the last 3 – 5 years, you can obtain an accurate historical view.
Cryptocurrency Trading
IG Markets offers trading on ten cryptocurrencies such as ether, litecoin, bitcoin, and ripple. You can also purchase a single trade position on IG Markets' Crypto 10 index.
Weekend Trading
You can maximize your profits by taking advantage of IG Markets' weekend trading facility. According to the IG Markets' website, it is the only broker in the UK that offers 24/7 trading on cryptocurrencies and indices.
Other Markets
Here are some of the other trading options at IG Markets:
Bonds – Take advantage of the relationship between prices of bonds and long-term rates of interest.
Options – Use IG Markets' flexible and comprehensive options to benefit from market volatility.
Digital 100s – Take advantage of the smallest to major market movements with IG Markets' range of fixed-risk digital 100s.
IPO Grey Markets – Purchase CFD positions on companies before their initial public offerings (IPO).
Interest Rates – Purchase trades on quarterly futures of global interest rates.
Trading Platforms at IG Markets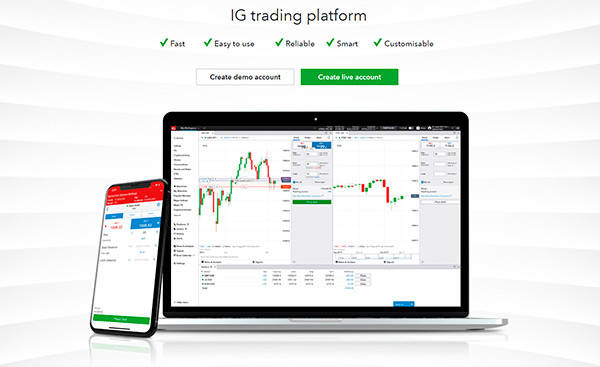 IG Markets offers platforms designed for specific devices. Each platform allows you to gain access to 16,000+ trading markets on any device of your choice. They also allow you to customize your trading according to your preference and trading style. You can also integrate your own terminals and APIs into each platform.
Online Trading Platform
You can enjoy the following features on IG Markets' online trading platform:
Open, edit, and close aggregate as well as individual positions quickly
Choose from light and dark themes
Use smart settings that remember your stop values and deal sizes to trade faster
Split charts and view the same markets across several timeframes at the same time.
Use drawings and indicators without sacrificing stability or speed.
Get the latest news through Twitter and Reuters.
The online trading platform supports browser such as Google Chrome, Microsoft Edge, Mozilla Firefox, Safari (only for Mac), and Internet Explorer 11. IG Markets, however, recommends the use of Google Chrome for optimum stability and performance. You don't need Java or Adobe Flash Player because IG Markets' charts are based on HTML5 technology.
Trading Apps
You can download native trading apps for iPhone, Android, iPad, and Android and trade on the move.
MetaTrader 4
This is an advanced trading platform that gives you access to a wide range of features and tools that help you customize your trading experience and carry out market analyses. You can also use these tools to build trading algorithms to automate your trading.
You can enjoy the following features on the MetaTrader 4 platform:
Round-the-clock access to platform specialists
Go long or short while trading CFDs on thousands of markets
Low spreads averaging at 0.75 points
Use MT4 on mobile devices
No third-party bridges
99%+ server uptime
In addition, you can use IG Markets' dedicated L2 dealer to gain direct market access (DMA). IG Markets also features ProRealTime, which can revolutionize your trading experience. As an added benefit, you can connect IG Markets' comprehensive range of dealing products to your front-end solutions.
IG Academy – Trading Education for Beginners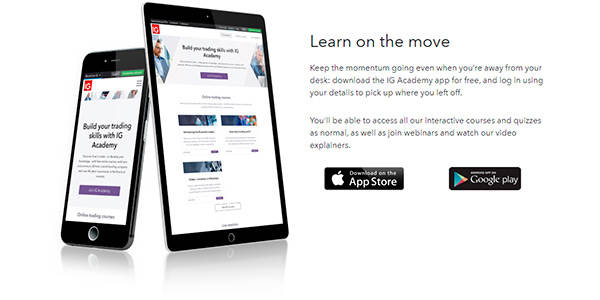 IG Academy helps you build your trading skills and develop your knowledge through live training sessions and online courses.
Online Courses – These are a set of courses that allow you to learn how to trade on your own pace. They are step-by-step and short courses, which include interactive exercises, videos, and quizzes.
The titles of some of these courses are "Introducing the Financial Markets," "How Does Trading Work," and "Orders, Execution, and Leverage, to mention just a few.
Live Sessions – These include in-person seminars and trading webinars, where trading experts share their insights, experiences, and knowledge. You can interact with these experts and ask them questions.
Trading Forums – Called the IG Community, it gives like-minded traders a common social platform on which they can discuss market strategies and opportunities and share ideas. You can use this feature to provide free tips to the community, perfect your trading strategies, and learn from experienced traders. You can login to the forum using your trading account details and access it on desktop, mobile browser, or mobile IG Trading app.
Risk Management at IG Markets
Trading CFDs is fraught with risks, but you can manage these risks effectively using IG Markets' risk management tools.
Stop Loss – You can use this feature to close your trading position automatically when the market stops moving in your favour.
Guaranteed Stop – This feature allows you to close your position at exactly the price you previously determined.
Trailing Stop – This feature allows you to maximize your profits without having to monitor your position.
Limit Order – IG Markets automatically closes your trade when the price reaches the level you previously determined.
Price Alerts – When you set a price alert, you will receive an SMS or email notification from IG Markets whenever the market approaches the price you previously determined. You can also opt to receive push notifications free of charge.
Balance Snapshot – Keep glancing at this snapshot so that you make swift decisions when the market stops moving in your favour. This feature helps you minimize your loss and maximize your profits.
Limited Risk Accounts – IG Markets decides your type of account based on the information you reveal about your trading style and strategies when you register. When you have opened an account, IG Markets gives you the option of switching to a limited-risk account, which either have guaranteed stops or offer only markets with limited risks. However, limited-risk accounts do not have the other types of stops previously mentioned.
Negative Balance Protection – If the equity of your account does not cover the required margin, IG Markets will either fully or partially close your trade positions. But this protection is not automatic, which is why you must maintain sufficient funds in your accounts. This will save you from being closed out of trades that you would like to remain open.
Getting Help and Information at IG Markets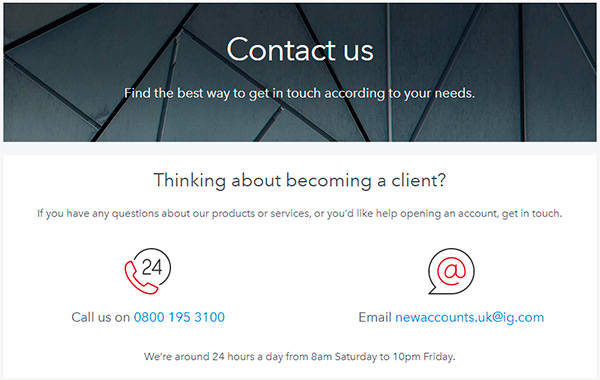 The best place to get information about IG Markets is the help center, which you can access by clicking on the help link at the top of the trading website. The help center features a search bar, which allows you to find information by typing in keywords or questions. You will find information related to CFDs, charts, accounts & statements, deposits & withdrawals, and trading platforms in the help center.
If you need to interact with fellow traders or staff members, you can use the following methods:
IG Community– Join the above-mentioned trading forum at IG Markets and interact with peers.
Social Networking Sites– IG Markets supports social interaction via its accounts on the social networking sites Twitter, LinkedIn, Facebook, and YouTube.
Live Chat– For instant assistance, click on the Live Chat icon at the bottom of the website. Fill in a simple form on the live chat window to start chatting with an expert.
Telephone– IG Markets offers round-the-clock telephonic support on the number +61(3)9860-1799.
Email– Send an email to [email protected]
Head Office– IG Markets has its headquarters at IG, Cannon Bridge House, 25 Dowgate Hill, London EC4R 2YA.
IG Markets FAQs
Q1: Can I let someone else use my trading account?
A: Yes, you can permit a third party to trade on your IG Markets account by giving them power of attorney (POA). This person should also be an IG Markets account holder.
Q2: Can I open multiple accounts at IG Markets?
A: Yes, you can do so. You have to login to your existing IG Markets account, navigate to My IG, click "add an account," and choose the type of account you would like to add from the pop up that appears on your screen.
Q3: How does IG Markets maintain trader deposits?
A: IG Markets holds clients' funds in separate bank account under trustee arrangements. The company has several segregated bank accounts at Westpac, HSBC, and Commonwealth Bank. Clients' funds are split across several bank accounts as the FX broker is not allowed to hold them all in one bank account.
Q4: Which is the best web browser for IG Markets?
A: IG Markets recommends Google Chrome because it the most compatible with its web platform. But you can use IG Markets' trading platform on any web browser of your choice. Use different browsers to find out which one gives you the best experience.
Q5: What happens if I leave my account inactive?
A: If you leave your account inactive for 24 successive months, IG Markets will start charging a monthly fee of $18. You will get an email notification about the same.
Should You Sign Up?

IG Markets is close-to-perfect Forex/CFD broker. Of course, there are a few trader complaints, but these are all based on their personal experiences at the online trading platform. Our research of the company reveals a licensed and well-regulated CFD trading platform that is ideal for beginners, intermediates, as well as seasoned traders.
IGMarkets offers plenty of sophisticated trading platforms, highly effective trading tools, a great forum, and an excellent academy for those who wish to learn. The Forex broker also offers a number of tools to reduce the risk of CFD trading.
We suggest getting started with a demo account at IG Markets and move on to a real money account only after gaining the required education and experience in trading CFDs.