Oanda Review
| | |
| --- | --- |
| Min. Deposit1$ | Demo AccountYes, Free |
Rating
Highly competitive spreads.
No minimum deposits.
Transparent pricing models.
Free demo account.
24/5 customer support in multiple languages.
Visit site
Oanda is one of the top providers of Forex & CFD trading, exchange rates, currency data, and corporate FX payments services in the world. The online broker claims on its website that it "treats your trades differently," offering custom pricing and tighter spreads for its premium accounts. You can also use features such as FIX APIs and REST to automate your trading strategies.
Brief History of Oanda

Oanda was established in 1996 by Dr. Richard Olsen, the head of Olsen Limited, a top econometric research and development company, and Dr. Michael Stumm, professor of computer engineering at the University of Toronto. The following year, Oanda became the world's first company to share information related to exchange rates online, free of cost. In 1998, a large number of top audit firms and tax authorities worldwide began subscribing to OANDA Rates, its corporate solution.
In 2001, Oanda launched its online trading platform to allow Forex investors worldwide to trade currencies with as little as US$1. Two years later, Oanda developed an API for its Forex trading platform so that its clients could automate their hedging and trading strategies.
The company expanded into the Asia Pacific and opened an office in Singapore in 2007. Oanda went mobile for the first time in 2010 after launching an FX mobile app for Android and iOS. The following year, it opened an office in London and in 2014, it expanded into Australia.
In 2018, CVC Capital Partners, a private equity firm that manages assets worth more than US$70 billion all over the world, acquired Oanda.
List of Awards
Oanda is the recipient of multiple industry awards, given away in acknowledgement of the excellence of its product, technological innovations, and customer support.
The following are some of Oanda's trophies:
Investment Trends US FX Report's No. 1 Mobile Platform Award in 2015
Investment Trends Australia FX Report's Best Educational Materials Award 2016
ShareInvestor Awards' Most Preferred CFD Provider Award 2016
UK Forex Awards Best Forex Trading Technology 2017
Investment Trends – US Foreign Exchange Report's Customer Service Award 2018
Investment Trends – US Foreign Exchange Report's Highest Overall Client Satisfaction Award 2018
Creating an Oanda Trading Account – Different Types of Accounts
The best way to get started at Oanda, especially if you are a beginner to CFDs and Forex trading, is to open a demo account. A demo account gives you access to unlimited virtual funds, which you can use to learn trading in a risk-free manner at Oanda. Moreover, an Oanda demo account never expires and you can choose from five trading platforms.
When you are ready to start trading for real money at Oanda, you can shift to a live trader account.
The following are the steps to opening a demo account at Oanda:
Click on "Open a Demo Account" on the Oanda homepage.
This takes you to an online sign in form.
Enter personal details such as your name, email address, and phone number.
Choose your country from the dropdown menu.
Create your login details.
Submit your details by clicking "Sign Up."
When you do so, you accept that the Forex broker may send you emails or text messages about its services and products.
The steps to open a live trading account at Oanda are similar to those of opening a demo account. You have to click on "Open a Trading Account" on the Oanda homepage and choose your country to reach the online sign in form. Enter your personal details and submit them to the online broker to create your account.
Trading Markets at Oanda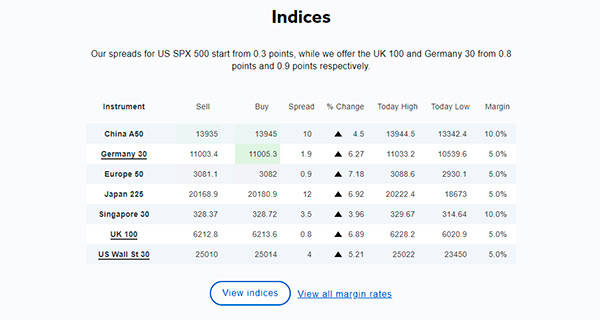 Oanda offers pricing on several CFD instruments across the globe and gives traders access to tight spreads across five powerful trading platforms. Oanda's spreads begin from 0.9 points on DE 30, 0.8 points on UK 100, and 1 pip on EUR/USD and USD/JPY. Brent Crude is available at Oanda from 3 points and XAU/USD trading is available from 25 cents.
Oanda also offers prices on a variety of international CFDs such as indices, Forex, metals, bonds, and commodities.
Indices– You can purchase positions on global indices such as US Wall St 30, UK 100, France 40, and DE 30.
Forex– Oanda offers prices on 70+ currency pairs such as GBP/USD, AUD/USD, and EUR/USD.
Commodities– Get positions on natural gas, corn, copper, and a wide range of soft as well as hard commodities.
Metals– You can go long or short on Silver, Platinum, and Gold.
Bonds– Oanda offers prices on UK 10-year Gilt, Bunds, US T-bonds, and much more.
Trading Platforms at Oanda

The broker offers fully customizable OANDA Trade desktop and web-based platforms or apps for mobile devices. In addition, you can use MT4 to speculate on FX markets.
OANDA Trade Web
The winner of the World's Best Retail FX Platform, the OANDA Trade Web is a browser-based trading platform with excellent features such as trader analysis, advanced charting, and fast trade order execution, among others.
OANDA Trade Desktop
This is Oanda's improved desktop online trading platform with an easy-to-use, intuitive interface.
OANDA Trade Mobile App
The online broker offers a wide range of trading instruments through its native apps for iOS and Android smartphones and tablets. The apps are just as good as the browser-based trading platforms, giving traders more control over their trading positions when they are on the go.
MetaTrader 4
The top features of Oanda's MT4 platform are the absence of requotes, customizable layouts, intuitive trading interface, and a wide range of plug-in. You can also download the MT4 mobile app from the Google Play Store or the Apple App Store and trade on your Oanda MT4 account on the move.
Also, the MT4 platform allows you to trade directly from charts with multiple displays and nine time frames. You can also access Oanda's technical analysis package as a plug-in, enabling you to execute trade positions directly from the interface.
Trading Tools to Help You Maximize Your Profits

Oanda offers a wide range of powerful trading tools that help its clients to identify lucrative opportunities and develop effective trading strategies.
TradingView Powered Advanced Charts: You can use TradingView powered advanced charts on Oanda's trading platform. These charts feature drawing tools and 65+ technical indicators and allow you to trade through the charts.
Technical Analysis: Use automatic pattern quality and chart pattern indicators to analyze intraday markets. Powered by AutoChartist, Technical Analysis is a browser-based charting app that you can easily access on Oanda's trading platform. Enjoy features such as market volatility analysis, performance analysis, and non-stop intraday market scanning.
Economic Overlay: Use this tool to get updates on major economic events and announcements on your trading platform.
Dow Jones FX Select: This trading tool provides expert trend analysis, breaking news, and in-depth policy commentary. Developed by an international team of editors and business news reporters at Dow Jones, this service is available in multiple languages.
Trading Education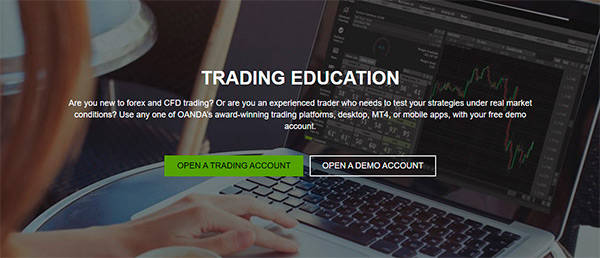 Oanda welcomes those new to CFD and FX trading to get the best education on its platform. If you are a seasoned trader who wants to test new strategies in real market situations, you can use the online broker's award-winning mobile apps, MT4 platform, or browser-based trading platforms through a free demo account.
The following is a list of educational resources at Oanda:
Getting Started: If you are beginner who has never traded online before, you can learn all the basics at Oanda.
Tools and Strategies: Find out everything about developing your own trading strategies and using trading tools to analyse market conditions.
Capital Management: If you want to become an expert CFDs or FX trader, you need to know how to minimize your risks. Oanda teaches you how to effectively apply risk management tools to protect your capital.
Webinars and Events: Oanda is home to a wide selection of events and webinars, where you can learn from the experience of expert traders and improve your trading strategies.
Getting Help and Support at Oanda
The company offers a huge help portal, which you can access by clicking on the Support link. The Forex broker prompts you to choose your country so that it can offer specialized support on account management, trading, deposits & withdrawals, and platform assistance. You will find answers to a wide range of questions on the FAQ page. You can also use the search bar to find the specific information you are looking for.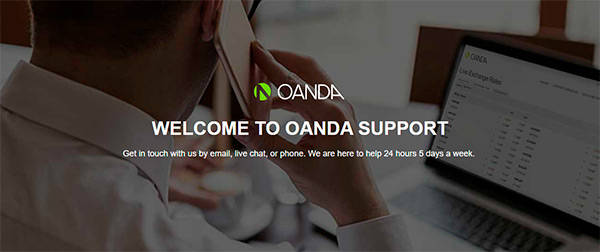 Oanda also invites clients to get in touch through phone, live chat, or email and offers customer support 24 hours per day and five days per week.
Send an email to [email protected]
Use the live chat facility from 1:00 p.m. Sunday to 6:00 p.m. Friday ET.
Call the numbers +1-877-626-3239 (North America), +44-20-7101-1600 or +44-20-3151-2050 (Europe), +65-6579-8289 (Asia Pacific), +61-2-8046-6258 or 1300-0-62632 (Australia), or +0120-923-213 (Japan).
Oanda FAQs
Q1: How many types of accounts does Oanda offer?
A: Oanda offers personal, premium, professional, join, and corporate accounts. There is no minimum deposit for corporate, joint, and personal accounts. However, you have to maintain a minimum deposit US$50,000 for a premium account.
You get a leverage of 30:1 for all types of accounts except the professional account, which gets a leverage of 100:1.
Q2: What payment options does Oanda offer?
A: You can use Visa & MasterCard debit and credit cards, PayPal, Internet Banking through Faster Payments (GBP only), Internet Banking through BACS (GBP only), CHAPS (only GBP), Swift Payment, EPA credit transfer (only EUR), and many others to load your trading account.
Q3: What is a sub-account? How do I create one?
A: You can create as many sub-accounts as you please without having to fill in and submit a sign-in form. Although you can have multiple sub-accounts, you have to link them all to one primary account.
You can open sub-accounts in several currencies, including CAD, GBP, EUR, SGD, JPY, USD, and CHF and use them to enjoy the benefits of certain Oanda products such as MT4, spread betting (UK only), and so on.
Q4: How can I withdraw my profits?
A: To withdraw your funds, you have to visit your Oanda account and select Manage Funds. Here you can make deposits, withdraw profits, and transfer funds between sub-accounts.
The Forex broker credits your profits to the same method you used to make a deposit. You can withdraw 100% of your deposit amount back to your credit/debit card. However, Oanda processes your payout request only after verifying your account details and source of funds.
Q5: Does Oanda offer trading advice?
A: No, Oanda does not offer any personalized trading advice. Its educational resources are generic in nature and meant for information only. They are not based on your personal life situations.
Should You Sign Up at Oanda?

We recommend Oanda because it is an FX & CFD broker with a difference. The Forex broker actually goes the extra mile to help you get the most of your trading activities. The company gives you access to award-winning platforms, transparent pricing, free trading tools, and exception trade execution. Plus, it allows you to get started with a demo account and gives you the best trading education.
Here are some of the top reasons to sign up at Oanda:
The broker offers a proprietary v20 trading platform that is fully automated.
Oanda features highly competitive spreads, no minimum deposits, and transparent pricing models. You may have to pay financing fees and account maintenance fees, but you won't come across any hidden costs that will shock you.
The company offers 24/5 customer support in multiple languages.
Take advantage of free tools such as educational resources, research resources, market analysis, and demo account.
In addition, Oanda is licensed by six major regulatory bodies across the world.
Although close to perfect, Oanda is not without flaws. You may feel that the spreads are not that competitive after all and that the list of trading markets is not that exhaustive. You may also be disappointed with the broker's limited educational resources. Despite these cons, Oanda still remains one of the most reputed online trading platforms in the world.
We, therefore, suggest that you explore the online broker and sign up if you feel that Oanda is capable of satisfying your trading requirements.